What is Wood Shed?
Woodshed Theatre Company has been in action since 2003 and is a Registered Charity. Although we have been showing fresh and exciting work since 2003, our ethos is still the same. "We are an inclusive theatre company and that includes YOU"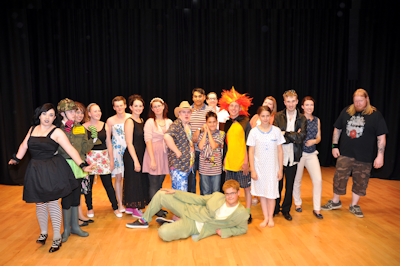 Wood Shed Theatre Company believes that anyone with an interest in the performing arts should have an opportunity to work with others who share that interest. We seek to genuinely include and represent everyone in our Children's Theatre and Youth Theatre groups regardless of labelling separation and segregation, which can often occur in society.

We were set up in 2003 and trained by the famous Chicken Shed Theatre Company and we follow their aims and ethos. Chicken Shed Theatre Company:
Our Aim: Theatre that celebrates diversity and inspires positive change. As an inclusive theatre, our aim is to bring people together of all ages, backgrounds and abilities to produce outstanding theatre that inspires, challenges, entertains and educates both audiences and participants alike. "In the outside world, difference divides. At Chickenshed, the difference makes the art."
Without initial funding from the URBAN, Arts Council, and Gravesham Borough Council and Chicken Sheds support and vision this unique theatre group would not have been established; we are extremely grateful to them. Due to the hard work of our volunteer committee, parents, friends and supporters we are now an independent Charity and have been granted additional funding from outside contributors such as the KCC and a local Masonic Lodge. This has meant that Wood Shed can continue to offer workshops and training opportunities for young people.

In the beginning we were based at Woodville Halls in Gravesend then in January 2006 we moved to Fleet Leisure Centre in Northfleet. We were there until September 2013 where we unfortunately had to find a new space as they went into administration and shut. Our new home is now at St John's Catholic Comprehensive School, Rochester Road, Gravesend, DA12 2JW where we offer workshops and performance's on Monday evenings for young people aged between 6-18+ years from both mainstream and specialist schools
Quote from a Children's Theatre Parent:
"Woodshed has bought my daughter out of her shell and given her confidence and self esteem"
Performance is at the heart of everything that we do and brings together all aspects of the Company. We regularly present original and entertaining productions for young children, families and adults that showcase talent. Our Youth Theatre members undertake scripts which are challenging and perform shows with sometimes only 12 hours rehearsal, spaced over months. The parents of our members often comment on how professional our shows are with such little rehearsals.
Woodshed Parent Quote following the Summer Performance of Beetleguise:
"Another stunning performance. It was great to see the whole group getting involved and helping each other out to produce a really entertaining show. Thank you"
Visit our What's On section to find out what show you can watch next
Please help us to continue to operate by visiting our donations page here